Black Columbian Musicians and Artists to Follow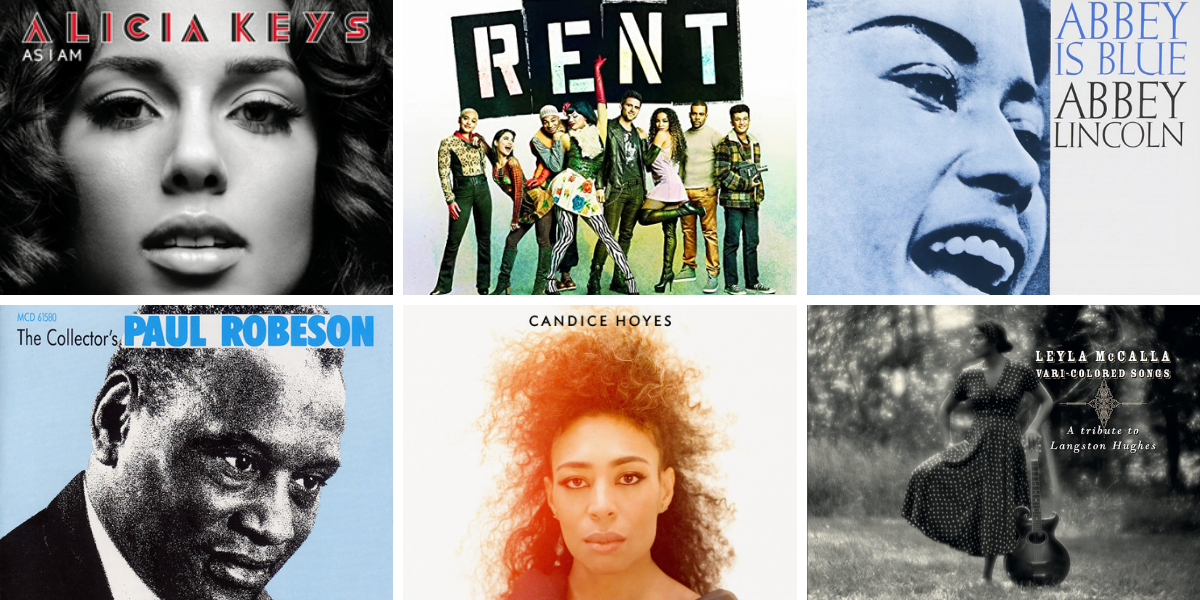 In celebration of Black History Month, as well as the beginning of Women's History Month, we are thrilled to have had the opportunity to collaborate with jazz singer Candice Hoyes '04LAW—often described as a musician-cum-activist because her music is a celebration of Black womanhood—to highlight Black musicians and artists (many of them women) who attended Columbia, or have created art inspired by Columbians. 
Each of these musicians is featured on the new Celebrating Black Columbian Musicians playlist, specially curated by Candice, and hosted on the CAA Spotify channel. 
Take a moment to check out the playlist, follow the artists, and read on below to learn more about a selection of the artists featured, as well as their Columbia connections, including rich descriptions and reflections by Candice beneath each song.
"Zora's Moon" by Candice Hoyes '04LAW
Zora Neale Hurston '28BC, '35GSAS was the first Black graduate of Barnard College, who went on to be a legendary Harlem Renaissance author, filmmaker, and anthropologist who is best known for her novel, Their Eyes Were Watching God.
"'Zora's Moon' is my ode to Black girlhood. I love the sample of Zora Neale Hurston, recounting how as a girl she felt the moon followed her as she played under the stars at night. I used to believe the same thing! This intimate glimpse, which she recounted on the radio in 1943 and referenced in her autobiography, entranced me and I wrote this song. I also find it empowering to create a sonic monument that samples her voice and the melody of my own. I have one foot in the future and one foot in legacy when I am composing and creating. I love the diaspora as expressed through my music, and I feel it is in the tradition of the first Black Barnard alumna and the pioneering author, playwright, poet, novelist, and filmmaker anthropologist, Zora Neal Hurston."
"Nothing Even Matters" by Ms. Lauryn Hill feat. D'Angelo
Ms. Lauryn Hill entered Columbia in 1993 and spent about a year in college before becoming a superstar with the rap group the Fugees. Her 1998 solo album, The Miseducation of Lauryn Hill, made Hill the first woman to win five Grammy Awards in one night.
"Ms. Lauryn Hill has such an irresistible caramel tone and she just speaks directly to the soul. I love that she can pen a song from a lullaby to a rally for global protest and yet her style is distinctive in every way."
"Girl on Fire" by Alicia Keys
Alicia Keys signed with Columbia Records at fifteen and was accepted to Columbia University at sixteen. She spent four weeks at Columbia before leaving to pursue a career that resulted in fifteen Grammys. Her Columbia legacy is felt each year during Commencement, as "Empire State of Mind" by JAY-Z featuring Alicia Keys has become the ceremony's official closing song. 
"Alicia Keys has not only accomplished so much as an artist, but also she has found incredible ways to perpetuate Black culture, educational initiatives, and share her personal journey, and I love that. Her advocacy to bring to justice the officers who murdered Breonna Taylor in her sleep was extremely powerful and helped to galvanize the global protests we witnessed months ago. The entire #SayHerName campaign was created by the extraordinary Columbia Law School Professor Kimberlé Crenshaw, who has been an inspiration and mentor to me."
"Waiting for the World (Tired)" by Candice Hoyes '04LAW
The lyrics to this song are of the 1930 poem, "Tired," by Langston Hughes, who attended Columbia's School of Mines (now Columbia Engineering). He was one of the earliest innovators of the then-new literary art form called jazz poetry and a primary contributor to the Harlem Renaissance of the 1920s.
"'Waiting for the World (Tired)' is my Afro-Futuristic flow on a gem of a poem from 1930. I first discovered Langston Hughes's poetry as an undergraduate at Harvard, and I could scarcely tear myself from it. I carried a dogeared paperback copy of his poetry anthology almost everywhere I went during sophomore year! Today, I have studied his complete works. He is the first Black artist to make his career exclusively as a full-time writer and that has motivated me to push boundaries in music across genres and create my own lane musically. 'Waiting for the World' is the manifestation of this longtime passion. The song and the poem are a direct appeal for accountability and concrete policy and resources for the most vulnerable communities, forget the rhetoric and politicking."
"Shirley Chisholm (1972)" by Shirley Chisholm '51TC
Shirley Chisholm '51TC was an American politician, educator, and author. She was the first Black woman elected to the United States Congress in 1968 and the first woman and Black person to run for the Democratic Party's presidential nomination in 1972. Below is a recording of her presidential candidacy announcement, delivered on January 25, 1972.
"Shirley Chisholm's speeches and the archival video of her campaigns and oration are such an inspiration. Chisholm bears the power and purpose that inspires my creativity. I love her visionary work, Bajan lilt, and the conviction of her drive to empower all her constituents and uplift the nation through her vision of social justice."
Be sure to follow the official CAA Spotify channel for more playlists and Columbia nostalgia. Open the Spotify app on your phone, go to the search bar and tap the camera icon, and scan the image to the right. 
If you have an idea for a new playlist or have a suggestion for a song addition to an existing playlist, we want to hear from you! Please email caa-marketing@columbia.edu.