2019 Columbia Alumni Medalists Announced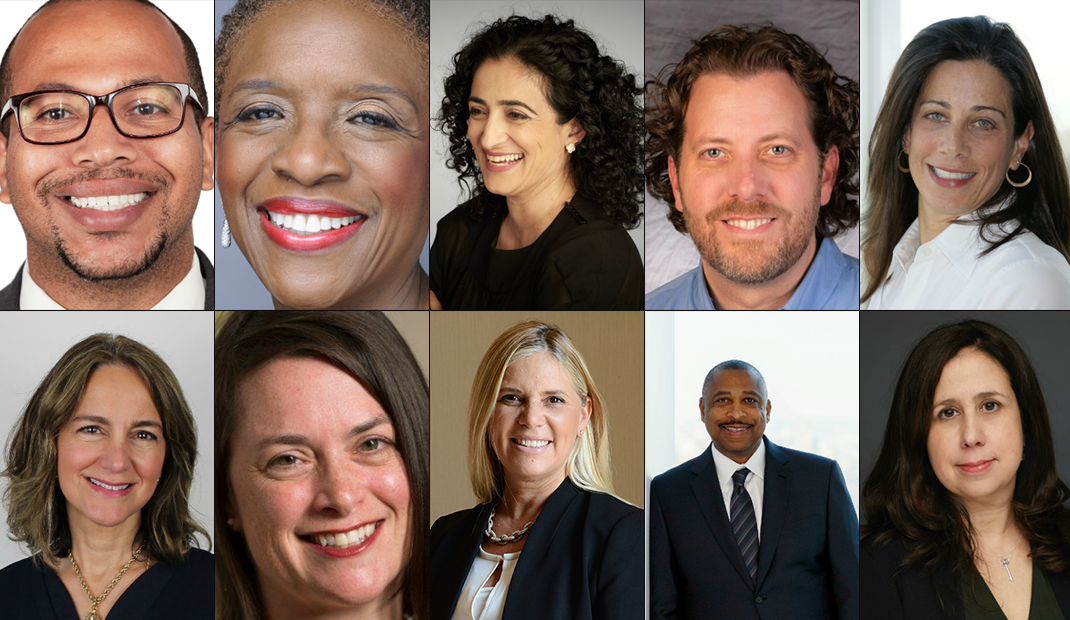 Columbia Alumni Medalists are recognized for building Columbia's community—whether regionally, online, in specific Schools, or in cross-campus initiatives. Medalists are honored at University Commencement and each fall at the Alumni Medalists Gala during Columbia Alumni Leaders Weekend. Learn more about this year's recipients:
Armond Adams '06CC is a licensed real estate salesperson and a founding member of Skyward Real Estate, located in New York City. In his first year with the firm, he received the Transaction of the Year award. Prior to his career change into real estate, Adams worked in digital media sales for over 10 years with several companies such as NBC Universal, Disney, and Facebook. Adams graduated from Columbia College in 2006 with a Bachelors of Arts in American Studies. While in college, he was a member of the Black Student Organization, a Double Discovery Center tutor, a member of the Black Theater Ensemble, and a Henry T. Esser Scholar. Upon graduation, he became the secretary of the Black Alumni Council (BAC) and shortly thereafter took on the position of president, supporting the council's transition to becoming a University-wide organization. During his presidency, he oversaw several initiatives, such as improving the council's digital presence and taking on the challenge of raising over $150,000 in scholarship funds to match the Kluge Endowment. Adams is a former board member of the Columbia Alumni Association (CAA), and former vice chair of the Associations and Clubs Committee. Most recently, he founded and is now the co-chair of the Real Estate Network of the Columbia Alumni Association (RENCAA). He currently resides in East Harlem, and coaches Little League Baseball for Harlem RBI.
Brenda Aiken '77BC, '81VPS is director of Medical Services at Columbia Health, the Student Health Service of the Morningside campus. Upon graduation from medical school, she began her residency in Internal Medicine at Harlem Hospital Center. Since her adolescent years, Aiken has dedicated her life to serving the community. With the activism of the Civil Rights Movement surrounding her, she determined as a young teenager to have her life's work make a difference in her community. Aiken spent two decades in community clinics and private practice in Harlem and the South Bronx.

The eldest of four daughters, her family migrated from Orangeburg, South Carolina, the place where she was born, to Fort Greene, Brooklyn, in search of improved social and economic opportunities, Aiken was the first in her family to graduate from high school and attend college. She is an active member of the National Medical Association and its New York affiliates and is currently president of the Susan Smith McKinney Steward Medical Society. As an alumna of the Vagelos College of Physicians and Surgeons, Aiken attends classes and weekend alumni events, holds alumni gatherings during the American College of Physicians national meetings, chairs the Campaign for Diversity, participates on the Admissions Committee and the Home Away From Home program, and speaks to first-generation and female medical students. She served as president of the VPS Alumni Association from 2014-2016.  She is the 2018 VPS Gold Medalist for Meritorious Service to the Alumni Association.

Aiken recently celebrated 30 years of marriage to the Hon. Kenneth L. Thompson, Jr., Justice of the New York State Supreme Court. She has two sons, Kenneth, graduating this year from Columbia Business School and Malcolm, graduating later this year with his master's degree and about to embark on his Doctorate in African Studies.
Maryam Banikarim '89BC, '93SIPA, '93BUS is a purpose-driven change agent in the tradition of Simon Sinek, Jim Collins, and Roy Spence. Banikarim shows organizations how to shift mindsets and build themselves through the lens of purpose. Known as a fearless force for change with a track record of creating and leading successful brands such as Hyatt, Gannett, NBC Universal, and Univision, Banikarim demonstrates how to define your purpose, differentiate your brand, make the case for change, rally the troops internally, and share it with the world. She is a member of the Samsung Retail Advisory Board and executive advisor to Cove Hill Partners.

She most recently was elected to chair the board of the press advocacy group, Reporters without Borders USA. She is a member of the Columbia Alumni Association (CAA), where she chairs the Alumni Marketing Committee. Banikarim has been an active participant at her various alma maters, recently speaking at the Business School's Women's Circle and hosting a mentoring day for Barnard students. She is currently an executive in residence at Columbia's School of Professional Studies (SPS). Banikarim is married to a Business School classmate, Andrew Lerner '92BUS with whom she has two kids, Nicky and Natasha ('21BC).
Don Boyd '17NRS, '14NRS is a graduate of Columbia University School of Nursing's PhD program and the Nurse Anesthesia Program. He is a nurse of 23 years, a practicing certified registered nurse anesthetist of 12 years, and most recently a faculty member at the School of Nursing as assistant professor and associate director of the Nurse Anesthesia Program. His service to the School includes: former member of the Board of Visitors, past president and current active member of the school's Alumni Association, founding member of the Doctoral Student Association, PhD Student Representative on the Dean's Advisory Group, and the PhD Student Representative on the PhD Faculty Committee. Boyd's leadership at the School, and also with the New York State Association of Nurse Anesthetists, has enriched his professional career beyond what he'd dreamed and have allowed him to give back to the School and the nurse anesthesia community.
Leslie Gittess Brodsky '88CC graduated from Columbia College with a degree in Economics in 1988, a member of the second class of women to graduate from the College.  Her father, Ronald Gittess '59CC, '62DM, and mother, Carol Mae Block Gittess '62NRS, provided a lifetime of Columbia stories. While at Columbia, she played singles and doubles for the Women's Tennis Team and was captain of the team her junior and senior years. She also wrote a column for the Columbia Spectator called "Inside Women's Athletics." Brodsky received a JD from Georgetown University Law Center in 1991. She began her professional career at Hughes Hubbard and Reed law firm. She began working in the sports industry in 1994 at the National Hockey League (NHL) as an in-house attorney, then moved into a senior business position where she focused on negotiating and managing all of the NHL's digital media deals. In 2006, she started at Major League Baseball (MLB) as vice president for business development in the MLB's digital arm. She focused on sourcing and negotiating partnerships, specializing in technology and emerging media deals and securing venture funding for MLB initiatives.

Brodsky founded Blue Sky Media NYC in 2010, where she helps media and technology companies with all aspects of their digital strategy. Throughout her professional career, Brodsky has remained devoted to Columbia and focused on many areas of involvement with the College, Athletics, and the University. She has served on the board of the Columbia College Alumni Association, Dean's Alumni Task Force, Alumni Legacy Council, and the Women's Tennis Executive Committee. She currently serves on the Executive Committee of the Board of Visitors, and is an advisor at the Columbia Startup Lab. Brodsky continues to be active with the Women's Tennis Executive Board, hosting dinners annually for current and alumni tennis team members and organizing alumni events. She lives in New York City, with her husband, Peter Brodsky, and their two children, Teddy ('23CC) and Carolyn.    
Jolyne Caruso-FitzGerald '81BC is founder and CEO of The Alberleen Group, an investment advisory firm that works with global family office investors.  Throughout her career, Caruso-FitzGerald has held senior roles at major investment banks, including JP Morgan and Lehman Brothers, where she helped build and manage global capital markets and alternative asset management businesses. She is chair emerita of Barnard College's Board of Trustees. She has been a trustee since 2000 and was board chair from 2011-2018. She was the 2018 recipient of The Frederick A.P. Barnard Award.

Highlights of her board tenure include overseeing the first major capital campaign in Barnard's history, which included the building of the Milstein Teaching and Learning Center; the landmark decision to admit transgender students to Barnard, as well as chairing and serving on the presidential search committee for Barnard's last two presidents. Caruso-FitzGerald has served on the advisory board of Columbia Entrepreneurship since 2015 as well as on numerous non-profit and private company boards. Her husband Shawn FitzGerald '80CC and their children, Christian FitzGerald '17CC and Gabrielle FitzGerald '19CC are all Columbia College graduates.  
Rachel Hitchcock '06SPS is the senior director of principal gifts at Johns Hopkins University.  She has more than 15 years development experience, including work in annual giving, corporate and foundation relations, and campaign management, as well as frontline fundraising. Hitchcock began her career in public relations. Hitchcock earned a master's degree in strategic communications from Columbia's School of Professional Studies (SPS) in 2006 and her bachelors in public relations and Spanish from Syracuse University. A four-year scholarship student-athlete as an undergraduate, Hitchcock was a field hockey team captain her senior year at Syracuse. Hitchcock proudly served two consecutive terms on the CAA Board as the first representative from SPS. She has volunteered on the planning committee for Columbia Alumni Leaders Weekend (CALW) since 2014 and participated in panel discussions as a moderator or speaker in several CALW programs.

In 2018, she was elected to the board of Columbia DC, Columbia's alumni club in Washington, D.C.  She serves as an alumni leader for the Baltimore-area alumni and re-initiated contact with the local Baltimore alumni representatives of the other Ivy League schools. Hitchcock is partnering with the CAA and SPS to develop the plan for the newly-reestablished SPS Alumni Association, for which Hitchcock will be the association's first president. She was previously vice president of the Portland Columbia University Alumni Club from 2012-2017, developing new programming for the Portland area alumni. She was an active participant of the West Coast Columbia Alumni Leader Retreat in 2016. She is an avid runner, having completed 11 marathons including the Boston Marathon in 2011, and now lives in Baltimore with her wife and two sons. 
Kirsten Frivold Imohiosen '03SIPA is a managing director in the Finance Division at Goldman Sachs. She manages the state and local tax function for the firm, including responsibility for overseeing domestic income and non-income state tax compliance processes, new deal due diligence, state tax research, audit defense and review of the effective state tax rate. Imohiosen is the chair of the SIPA Alumni Association, and has been involved with the organization since its inception in 2007. She is the co-founder of the Executive Master of Public Administration (EMPA) Forum, an alumni organization focused on social and policy-oriented events for current and former Columbia SIPA EMPA students.

Previously, she served as a two-term board member of the Columbia Alumni Association (CAA), chairing the Programs Committee, where she curated the annual CAA Family STEM Day, bringing together over 500 alumni and their children to learn and participate in STEM happenings across the University. Imohiosen was also a board member for 10 years of Neighborhood Trust Financial Partners, a non-profit organization that promotes the economic empowerment of low-income and underbanked families in New York City, and was a Fellow in the David Rockefeller Fellowship program sponsored by the Partnership for New York City. Imohiosen received a BA from the State University of New York at Albany, an MBA from Fordham University, and an MPA from SIPA. She lives in Morningside Heights with her husband and children.
Tracy V. Maitland '82CC is the founder, president, and chief investment officer of Advent Capital Management, LLC, an investment firm that manages over $9 Billion in assets with offices in New York City and London. Prior to founding Advent, Maitland was a director at Merrill Lynch. A native New Yorker and dedicated philanthropist, Maitland took part in a University-wide effort to achieve greater connectivity among the NYC financial leaders with what is known as the Columbia University Wall Street Initiative. He has provided multiple internships in finance to Columbia students interested in entering Wall Street. Maitland currently serves on the Board of Trustees for the Columbia Grammar and Preparatory School, and is chairman of the Board for an Advent publicly traded closed-end fund, AVK, listed on the NYSE.

He previously served on the Columbia College Board of Visitors and served as counsel to the dean of the College. He has served on the Boards of the ASPCA, The Apollo Theatre, the Managed Funds Association (MFA), and the Studio Museum of Harlem. He founded a scholarship fund in his father, Leo C. Maitland's name at the College. His vision for the program has been driven by his principles regarding higher learning, which are rooted in his beliefs in a strong educational foundation, regardless of socioeconomic status. He received the Black Alumni Council Heritage Award, for his leadership and involvement in the University's African American community, the 2011 John Jay Award, and has been a member of the Dean's Circle for a number of years. Maitland's stature as a financial and community leader was recently recognized by his selection as the 2018 recipient of the Chairman's Leadership Award at the Museum of the City of New York.
Ana B. Rodriguez '86SEAS, '88SEAS is co-founder of a clean energy production company along with two fellow Columbia Engineering (SEAS) alumni. After completing her degrees at Columbia, she received her PhD in Materials Science and Engineering from the University of Texas at Austin. Rodriguez has spent 25 years as a management consultant and technology strategist working in such diverse areas as semiconductor design and manufacturing, educational publishing, and athletic footwear. She has been an active alumna volunteer, manifesting her sense of gratitude for all that her Columbia education and experience has given her, especially the closeness she continues to have with many of her classmates.

Rodriguez is currently on the CAA Board where she is a member of the Strategic Planning Committee, the Columbia Engineering Alumni Association (CEAA) Board, a co-chair of the Engineering Development Council, and a member of the Alumnae Leadership Group. She was part of the She Opened the Door Task Force, helping organize the first Columbia University women's conference in 2018, and she continues to care deeply about supporting women in STEM. She has also served on the Engineering Board of Visitors. Rodriguez lives in Ridgefield, CT, with her husband Edward Barth '88, '89SEAS with whom she has three children.