If you want to give back to Columbia with your expertise, time, or thoughts, the CAA welcomes you as a
volunteer, providing the best opportunities to leverage your participation for the greater Columbia community.
Give Back
Columbia is at the forefront of addressing world issues involving social justice, climate response, precision medicine, and more. By turning knowledge into action, The Columbia Commitment builds partnerships with donors and volunteers sharing an urgent sense of what Columbians can do for our students and the world.

"The Columbia Commitment is more than a commitment to the University," Columbia President Lee C. Bollinger said at the Campaign's 2017 launch. "It is a renewal of our bonds with the world and our shared future."

Learn more about the Columbia Commitment.
Volunteer
Columbia Alumni Voices is a feedback panel of dedicated alumni from all decades, ages,
degrees, and parts of the world. More than 3,000 of you have signed up to share your opinions
on a regular basis to help shape a range of Columbia offerings. Make your voice heard.
As a ColumbiaSOCIAL Ambassador, you can share the stories that matter most to you and reflect what you value most about your University -- and learn something along the way. Become an ambassador now. 
From San Francisco to Shanghai, become part of the CAA worldwide network of more than 350,000 global Columbians by joining one of the 100-plus alumni clubs around the world. Become a member, attend events, volunteer with the clubs' Columbia Community Outreach spring events, or join the club board or leadership committee. Find a club near you.
 
Since 1908, alumni have been responsible for nominating six of the University's 24 trustees. University alumni are represented by the Alumni Trustee Nominating Committee (ATNC), comprised of one representative from each School.

To nominate alumni for the ATNC, e-mail ithe candidate's resume to Jessie Mygatt at jsm9@columbia.edu.
From Varsity C, an organization dedicated to supporting Columbia Athletics through advice, counsel, and volunteer activity, to season ticket opportunities, there are many ways you get involved with the Lions after graduation.
Interested in hiring top talent and making a difference for fellow Columbians? As an alum, you know the value of the Columbia degree and the benefits gained from valuable work experiences.

Post an internship, full-time job opportunity, or share your professional experience and advice for a Columbia student via the "Hire Columbians"  campaign and on the Columbia Career Connections LinkedIn group. Post an internship or job opportunity for an alum on the CAA LinkedIn group or Alumni Community.
Established as a means of giving the Columbia community a voice in University operations, the Senate is Columbia's policy-making body. Presided over by the President, the Senate meets monthly during the academic year to discuss issues and vote on resolutions.
Alumni elect two Senators who serve for two-year terms and have representatives on several committees. Learn more about the Senate and its committees.

Every two years, the CAA Nominating Committee meets to nominate candidates for the position of University Senator. Any alumnus may request to be considered for nomination and may also be nominated by petition. University Senators are typically alumni who have served in a variety of alumni leadership positions prior to their election.
VolunteerColumbia is a place to post and find volunteer opportunities, grow membership,
integrate your programs, and support the strategy of the CAA's Volunteer Development Committee.
Whether you're looking at a one-time project or ongoing opportunities, use your time, passion, skills, and willingness to serve the University.
Across Columbia's 16 Schools, there are many ways to get involved. Visit your School's alumni page and learn about mentoring, community service, and other programs that are made possible by alumni volunteers.
Columbia Alumni Association
The Columbia Alumni Association's (CAA) mission is to cultivate a uniquely Columbia environment in which diverse, impactful opportunities inspire students and alumni to engage, exchange, and experience the lifelong
benefits of our University community.
Read the CAA Constitution and Bylaws. 
The CAA Board is the governing body of the CAA, and seeks to keep alumni connected to the University and its Schools. A number of trustees serve on the board, with the current chair being Rita Pietropinto-Kitt '93CC, '96SOA.

There is representation from each of the Schools on the Board, and there are term limits and a rotation process to guarantee a good cross-section of alumni leaders at all times. Meet the CAA Board.
 
Rita Pietropinto-Kitt '93CC, '96SOA is vice president of the Columbia College Alumni Association (CCAA), a Columbia College Women Board member, and has served as a class agent for 20 years. Her previous CAA leadership includes serving as CAA Board vice chair and CAA Arts Access Committee chair.

Pietropinto-Kitt was a 2016 Alumni Medalist. She is chair of the drama department at Marymount School of New York and an adjunct professor in the Barnard Theater Department. She has performed on Broadway, off-Broadway, regionally, and in television and film.
Committees provide the infrastructure to support CAA alumni leaders and clubs with the resources needed to engage with Columbians around the world. There are committees that address Columbia Alumni Leaders Weekend planning, associations and clubs, digital marketing, programming, honors and prizes, recent alumni, and student relations.
 
Awards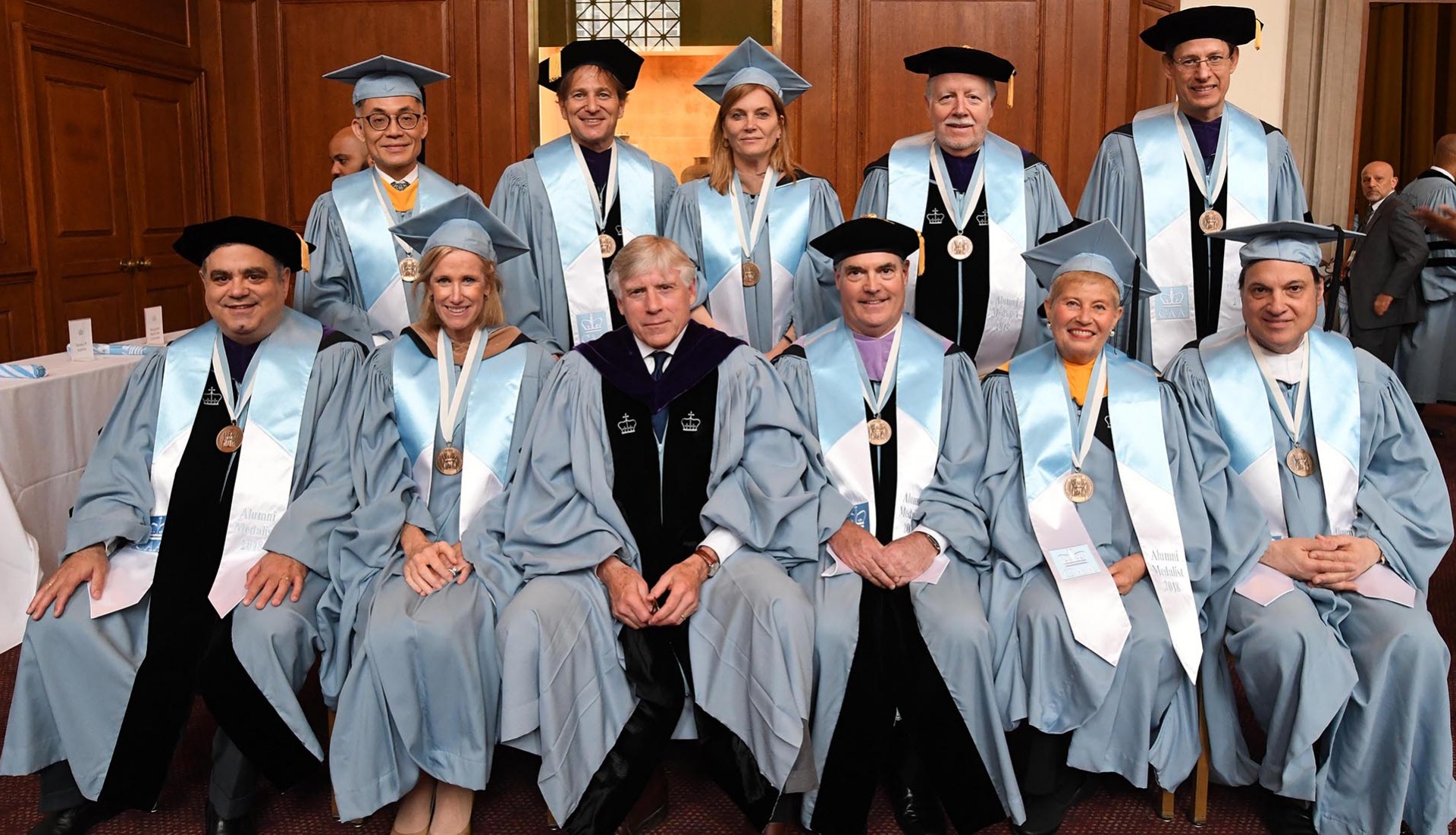 Alumni Medalists are recognized for building Columbia's community—whether regionally, online, in specific Schools, or in cross-campus initiatives. Recipients are honored at University Commencement and at the Alumni Medalists Gala during Columbia Alumni Leaders Weekend. Learn more about the 2018 Alumni Medalists through their bios and their videos.
Looking for more information on Alumni Medalists? You can: 
Fill out a nomination form online. You will be asked to provide information about the positions your candidate has held, when the positions were held, references, and a brief explanation of the nomination.
In 2016, the Columbia University Trustees and the CAA established The Campbell Award, which is presented to a graduating student at each School who shows exceptional leadership and Columbia spirit as exemplified by the late Bill Campbell '62CC, '64TC, Chair Emeritus, University Trustee and CAA co-founder. Meet the 2018 recipients.